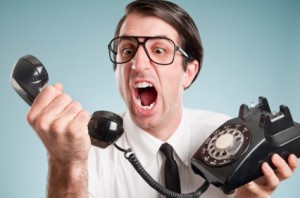 "Outsource call center" is too often synonymous with "bad customer service." People remember those conversations that leave them more frustrated than before they called.
Almost everyone's called a company and spoken with a less-than-knowledgeable (or less-than-friendly) phone agent. Whatever cost-cutting rationale businesses employ to justify bad customer service, it's enough to make you wonder if they really want to stay in business.
Not all outsource call center employees are the same, though. Successful companies understand the impact—good or bad—customer service has on their brand and reputation. When they choose to partner with a call center, they choose wisely.
As a customer, I measure companies' phone service by three basic criteria. As a business weighing a remote call center, consider these criteria from your customers' perspectives:
Are they friendly, energetic and upbeat?
When customers reach call associates who obviously hate their jobs enough to put minimal effort into helping, that's much worse than reaching voice mail or a dial tone. On the other hand, reaching an associate who's sharp as a tack and friendly without being over-the-top sweet—that does wonders for a business. Customers encountering this kind of help will become loyal customers.
Do they possess good communication skills?
Anyone who works with people should be able to communicate clearly. That goes for listening and comprehending as well as simply speaking clearly. Associates who can listen to and succinctly repeat back customers' questions or concerns demonstrate excellent communication.
Are they knowledgeable and professional?
Do phone associates understand a company's products and services at least as well as their customer? Do they seem professional? If they don't quickly know an answer, can they quickly direct customers' calls to the appropriate source? Speaking with a knowledgeable company representative makes customers want to do business with them again.