Eric Bouchard and his business partner, Tanner McGraw, built their Salesforce-based mobile real-estate CRM, Apto, out of necessity—they needed something that worked well with their business, and because that something didn't yet exist, they built it. After beta-testing their colleagues, they realized that this side project was becoming more successful than their primary real-estate brokerage firm. Mobile technology "is becoming a big part of real estate," says Bouchard. "[People] want their information to be accessed anywhere, and they want data integrity and security."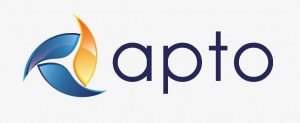 Tell me about Apto.
Apto is a CRM designed specifically for commercial real estate brokers. We built on the Salesforce platform—they opened up their platform and allowed third-party groups to customize it. So we essentially have a reseller agreement with Salesforce. Our system helps real estate brokers sell their properties. Our partnership with Salesforce has really allowed us to be ahead of the crowd. It's really caught on.
How has mobile technology changed the real-estate business?
One thing's for certain: Over the last couple years with social media, given our business, [mobile] technology has started to be leveraged more and more. That technology is becoming big part of commercial real estate. With the advent of the smart phone and cloud-based computing, it's something that more and more people want to hear about. They want their information to be accessed anywhere, and they want data integrity and security. If you're backed up on your hard drive and it crashes, you know, your entire business is in your hard drive. That's painful. We've had clients come on board who've suffered through that, and they don't want to go near that again.
The world is moving into the Web, and data is flowing cheaper and more easily, and [mobile technology] is going to implement itself more and more.
How will Apto look in 5-10 years?
At the rate we're growing, there's a good chance we'll be changed. One of our main stalwarts, something we've tried to focus on, is not just providing something better than what's out there, but something that pushes the envelope. Our relationship with Salesforce allows us to integrate with third-party services. When you've got your CRM storing all of your data, when it can communicate with other systems, it makes it extremely powerful.
In five years, it'll probably look a whole lot different than it does now. Our goal is to continually evolve with technology. It means changing, adapting. That's on the forefront of our minds. What it'll look like? It'll mold itself to what's out there.
What's been your biggest challenge in growing your business?
So far, it's been pretty regular growing pains. We're a small company getting started. We've only been actively selling licenses for eight months. It's nothing out of the norm, other than there's not enough hours in the day.
Are we talking 12-hour work days?
Yeah, I'd say so. It's been pretty hectic.