Dr. Kimberly Wright, MD, practices OB/GYN in the Chicago area, and her vision for five-star gynecological care is set to open this August. The Wright Center for Women's Health won't just have warm blankets and a chandelier in the waiting room. Patients will get their own personal lactation consultant, pregnancy massage each trimester, deliver-room photographer, fashion consultant, and 24/7 access to Dr. Wright, among other perks—concierge medicine, essentially, for OB/GYN. This, along with providing highly innovative, minimally invasive medical procedures: "I want to be able to take total care of the patient," Dr. Wright says.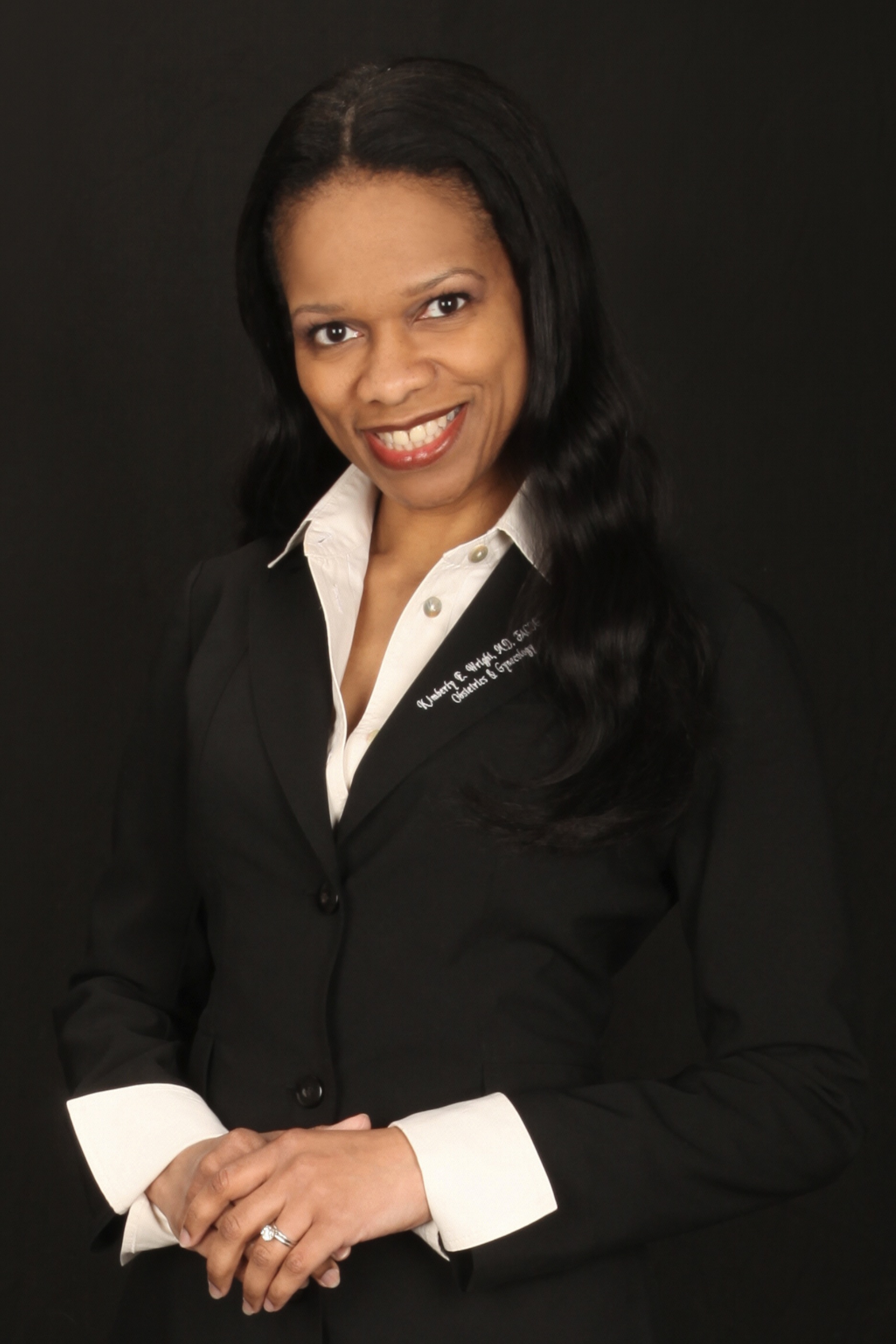 When is The Wright Center for Women's Health scheduled to open? I'm getting everything set up. The building still is getting built out, but there's a million and one things to do. I'm opening August 6. Right now, I'm setting up appointments.
How did you come to this stage in your medical career? I chose OB/GYN because it's a pretty happy field. Women love having babies, and it's wonderful thing, bringing life into the world. I came to Naperville, Ill., in 2002 when I started out in private practice. It was fine, but I needed room to grow. I wanted to bring health care to another level. Usually, OB/GYN doctors usually see anywhere from 4-8 patients an hour. I generally see about two patients per hour. I don't like feeling rushed. I don't want my patients feeling rushed. I want to do a very thorough exam and give them time.
With my new practice, I envision everything being more upscale and five-star, from the moment they call to the moment they come in the door. I'll have a chandelier and a wine glass—with sparkling grape juice, not wine, for those who are pregnant—and a really nice waiting room with a fireplace and a minimal wait time. The rooms will be warm—those rooms are always so cold—with a warm blanket instead of paper sheets and a warming fixture over the bed and a TV in every room. Just really serious, five-star, upscale care. I still do general OB/GYN, but the thing that I really focus on is more innovative, more up-to-date, latest-technology type of procedures. I do minimally invasive procedures, helping women get back to their lives quicker and faster, taking care of those many gynecological nuisances that women have to deal with: Heavy bleeding, annoying periods, birth control. These are mostly for women who are done with having children. I can take care of these things in 90 seconds, and they're done without surgery.
Also I'll be doing cosmetic vaginal surgery. This is a really innovative, new field, and they're aren't many people in the U.S. who do it, let alone females who practice in this particular specially. I believe I'm the only female in Illinois who will be performing this surgery. This entails several things: labiaplasty, vaginal rejuvenation, g-spot amplification, and several other things that enhance women's self-perception and sexual gratification.
Lastly, there's something called VIP OB. When a woman is pregnant, they have 15 doctor visits, and that's with anywhere from 4-8 different doctors. When they go into delivery, they may not meet the same doctor who they've seen throughout their pregnancy. Health care is going, more and more, toward seeing different doctors in the office. In my particular VIP OB practice, the patient gets my cell number; they can call anytime. It's like having their own personal concierge obstetric physician. They can get in touch with me 24/7. When the time comes to deliver, I'll be in the hospital with them the entire time they're delivering.
I don't know if you've heard of concierge medicine. You don't see a lot of OB/GYN(s) doing it, but it makes sense. You know you're going to see your obstetrician 15 times, minimum. It totally makes sense to have this service available for a fee on top of the insurance. And of course it'll be other stuff. There will be a 3D ultrasound. They'll have a whole team: a duola; a lactation consultant; a photographer to record the whole pregnancy and pictures of the baby from 3, 6, 9 months to a year; their own personal nurse; fashion consultant; pregnancy massage each trimester. It'll be a whole team of people caring for the patient with my concierge VIP OB practice.
What are the most challenging aspects of your job? Working in the office.What we do day in and day out is not that difficult, because we do it all the time. This is what I've been doing the past 15 years. As far as what I find most challenging is working within the confines of an already organized system. I want to do new things, different things, such as the vaginal rejuvenation surgery, or focus on things that would help women in everyday situations and help them get away from those little nuisances like their period coming every time they go camping or go on vacation or having an accident or being free to have intercourse without thinking "Am I going to become pregnant?" or being free from hormones or excess medications in their bodies.
In order to focus and do the VIP OB and do the extra care, it's impossible to do it within a practice that is already formed. Because every OB/GYN practice in Illinois is a formula: You see 4-8 patients an hour. This is how it works. I need to have control over the entire environment to do things the way I want to do them on an upscale level. In the current confines of a regular OB/GYN practice, it's impossible to practice the way I want to practice.
And then starting up your own business is a whole other thing. It is terribly busy.
How is your family helping? My husband is a banker, and he has stayed home with our twins for the past two years. That helps tremendously, to the point where I don't have to worry about them. He's probably one of the best fathers in the history of fathers. That really helps. He doesn't know it yet, but he's going to be helping me with the business and financial part of things. But him being home with them is a huge aid, beyond measure.
What led you to practice OB/GYN in the first place? It's a really good feeling, helping people. Bringing children into the world is a wonderful thing. I like the surgery. The biggest thing is that patients, for the most part, are generally well and happy. It's a happy specialty, OB/GYN.
And also being female—women like to see women. My practice is going to be an all-female practice.
How do you envision your practice being different in five years? Right now, my practice will be one of the very few practices in the area that has electronic medical records. I plan to go totally paperless.
Most doctors are frightened of electronic medical records. I'm not going to lie; I'm a little scared myself. I'm used to having that one-on-one interaction with the patient, talking face-to-face and not typing on the computer. I hope I'll be still able to do that. I think there'll be many ways, as I look into the electronic record systems, that can help streamline processes, and not only with billing concerns and accounting and practice-management, but also actually seeing the patient. There are so many alerts, for example: If a patient is due for a Pap smear or a mammogram, computer systems can alert you of this. In general, as long as us doctors learn to use it correctly, I think it'll aid us tremendously in taking care of our patients. Also, I have 24/7 access to their record. If a patent calls and I'm not in the office, I can still look at their chart and record and see who they are, their records, what's going on, what medications they're taking—in general, it'll provide a much better quality of care that'll go along with my New Age practice.