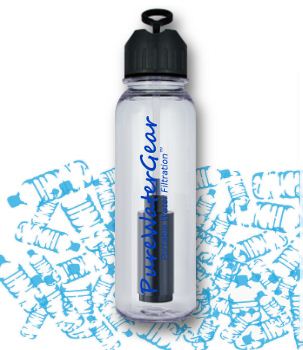 The people of PureWaterGear see themselves as "Chief Evangelists" of their state-of-the-art filtration system, designed to filter water through everything from bottles to pitchers to shower heads. As Bob, CEO and founder of PureWaterGear, puts it, "What we do is a crusade, literally a God-given mission to impact humanity. The people we influence are people who understand the impact one filter can have in their lives."
Bob is quick to emphasize PureWaterGear as more than just a storefront.  A large portion of their proceeds are donated to charity, and their filtration products are a vital part of missionary trips world-wide. Below, Bob talks about the many misconceptions surrounding the bottled water industry and the satisfaction that comes from bringing clean drinking water to those who need it most:
How did you come up with this idea, what was that "a-ha!" moment?
Every 1.7 seconds another person dies from a water-borne illness. In some parts of the world, people walk miles to get to water (that's not necessarily clean). Oftentimes, donated wells become overtaken by militants or pirates who charge local villagers fees to access the water. It's because of these things, and hundreds of others, that I began on this path. The only way to solve these issues is PureWaterGear's individual filtration systems. Our products allow these people to turn any water source into a reliable clean water source. People don't realize how important water is until they travel abroad. PureWaterGear is the safest most reliable way to consume water on any continent, bar none.
What are some common misconceptions regarding bottled water?
One of the most common misconceptions about bottled water is that it's good for you. Granted, the idea of choosing water over a soft drink is well-intended, but its execution is the crux of whether it's truly a good decision. Bottled water has practically no FDA regulation when it comes to quality. Oftentime the bottles are filled with tap water. Even if the water is from a virgin aquifer from the Fijian or Hawaiian islands, by the time the consumer gets it the water has likely transformed into a toxic soup filled with chemicals like benzene and BPA due to plastic leaching.
Drinking water is vital to sustaining life. Up to 80% of the human body is comprised of water. It's crucial you drink clean, contaminant-free water. In order for your body to utilize the water you drink, it has to remove any toxins that you may have ingested while drinking the water. As we say here at PureWaterGear: Use a filter or be a filter.
How much of an environmental impact does PureWaterGear make?
PureWaterGear makes a tremendous impact on eliminating plastic pollution. One PureWaterGear bottle will effectively eliminate 500 single-use plastic bottles. Over 65 million plastic bottles are disposed improperly on any given day of the week. If everyone used a PureWaterGear bottle, we could literally eliminate improper disposal of single-use plastic water bottles.
Tell us more about the Nourish a Life Program.
nour·ish [nur-ish, nuhr-] – verb (used with object)
1. To sustain with food or nutriment; supply with what is necessary for life,
health, and growth.
2. To cherish, foster, keep alive, etc.
3. To strengthen, build up, or promote.
Our goal with Nourish a Life is to follow the above definition as our personal and corporate mission. Whether it is supplying international mission-based groups with safe water filtration bottles for use in their travels, supplying them to distribute to the people they are ministering to overseas, or taking care of people close to home–the homeless, underprivileged & children. Doing our job to impact others with the tools we have.
What's your favorite part of your job?
My favorite part of the this crusade is watching people's eyes go wide-open when they understand what's in our water, what's in the bottles they use and how simple it is to fix it. No matter where I am, it seems like someone comes up to me and asks me "What's that?" about my PureWaterGear bottle. Meeting new people and making an impact, sharing the passion and mission without question makes every day worth it.
To find out more about PureWaterGear products or their charitable programs, visit their website or email Bob@PureWaterGear.com.