Devorah and Rod England founded Wounded Warriors – Sons and Daughters of America (SAD) in 2004 as a way of providing financial assistance to returning disabled veterans. "We realized our military were getting discharged, coming back and having problems," Devorah recalls. "Back then, the length of time between getting discharged and receiving their disability checks was six months. Now, it's anywhere between two and four years." Since then, the non-profit organization has evolved, widening their focus to alternative treatments for post-traumatic stress disorder.
Below, Devorah talks about  Wounded Warriors – SAD's goal of building a holistic restoration center in the pristine mountains of Colorado and the challenges they face in realizing their dream.
Can you tell me about your role with Wounded Warriors – SAD and how it started?
We originated in 2004. We became a non-profit for disabled veterans after our son Robert Jepsen was injured in an IUD blast in Iraq. We realized our military were getting discharged, coming back and having problems because, back then, the length of time between getting discharged and receiving their disability checks was six months. Now, it's anywhere between two and four years. So from 2004 to 2010, we helped our military financially. We paid for mortgages, car payments, utilities, food, anyplace that we could help, that's what we paid for.
My husband, Rod England, was our marketing and sales person—he did most of our fundraisers and that type of thing. When he passed away in 2010 of cancer, we were on hold for almost two years. During that time, I started researching and studying alternative methods of treatment for PTSD. I had the opportunity to travel to Israel, which only has 5% reported PTSD, compared to the United States, which is well over 90%. My question was: what is the difference and why is there such a huge difference?
I had the opportunity to meet and talk with several different IDFs (Israeli Defence Force) and visit Israeli trauma centers. I realized the difference was the manner in which they treated PTSD. In the United States, everyone is put on antidepressants and given psychoanalysis or counseling. In Israel, they have a great diet. And diet is very important in anything. When my husband was going through cancer, I learned a lot about diet and how important it is to feed and nourish the body in the right way to combat anything. My husband was diagnosed in 2000 and given six months to live. We started researching, reading and studying diet. He lived for ten years with a very high quality of life. Our bodies are designed to heal themselves.
Not only is the Israeli diet very vegetarian, they also don't put people on drugs. They have these great therapy centers with things like equine therapy and animal therapy. They have what they call "healing rooms", which are all about frequencies: frequencies of light, water, sound and even touch. The rooms are quite an experience. They just soothe and calm the senses.
I learned a great deal about frequencies, animal therapies, that type of thing. When I returned from Israel, I was able to experience a system called the Synchronicity Wave System from Dr. Kaufman. It's a system that has created a barrier with frequencies that go into the cellular level with their own light and color. It reboots the traumatized or damaged cell, kind of like healing or waking the cells up.
Since 2010, I've been putting together all this research and notes. What we're trying to do now is establish a restoration center in Crawford, Colorado using equine therapy, aromatherapy, essential oils and Machesah healing rooms. Mechesah means "safe haven." They're healing room in which everything is about frequencies. And, of course, the diet is very important. So we're going to have a raw chef that will know how to cook and prepare meals using the raw method.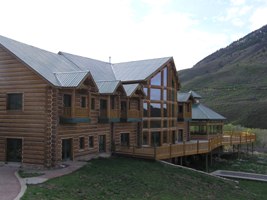 What are some of the ways people can contribute to get the Restoration Center to happen?
Well, of course, number one is donations: monetary needs. We're also looking for donations of volunteer time. We have several things we have to do to get the center ready. We have to do some restoration to the facility itself. We have to make it handicap accessible, and we're going to put in healing gardens. We have to commercialize the kitchen. The local commission there is looking at the center as being a type of institute, so therefore we have to have our kitchen up to commercial code.
The place we're looking at getting was intended to be a hunting lodge. It has 17 rooms, 18 bathrooms, a weight room and a media room that we're going to transform into the healing room. It's on 94 acres, has staff housing, two separate houses and a river that runs through it; it's just the perfect setting.
We need several volunteers because we intend to be as self-sustaining as possible. We'll have a gardener and greenhouses, and an Outdoor Adventure program—all of which will require a lot of volunteer time. Basically, we'll want to enlist the community into being an interactive part of the center.
What's the outlook on this, time-wise?
The property is actually going through a foreclosure period, so we're waiting for that to finish before anything else. We were hoping to be into the revamping part this fall, but right now we're waiting.
You can contribute to Wounded Warriors-Sons and Daughters of America and find more information about the Restoration Center and its holistic treatments at http://dev.americaswounded.org. Returning disabled veterans can apply for treatment here. Keep an eye out for upcoming job listings as the Restoration Center becomes a reality.