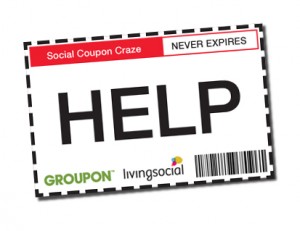 Groupon.com and LivingSocial.com are very popular these days, and clones are popping up all over to cash in on the trend that is being called "coupon marketing." They offer an extremely valuable service for business owners and consumers alike. For consumers, it allows them to purchase premium goods and services they might not otherwise be able to afford. For business owners, the deal can be more complicated, and working with them should be considered carefully. Groupon presents some enticing statistics, but there are a lot of things to consider before getting started with them.
Here are some quick tips on taking advantage of the social coupon craze:
1. The company promoting you takes a percentage of the profits from your deal as their fee. The rest is paid to you in three installments. You need to know this, and plan your deal accordingly. Offer your services with the highest profit margin to make sure you make at least some profit. That way if you get overrun with customers you won't take a loss on top of it.
2. Any offer is a good offer. 35% off may not be as attractive as 50% to as many bargain hunters, but you'll be just as attractive to people who need your service or product but need help choosing a vendor.
3. Seriously consider putting a limit to the number of coupons you'll offer. Many of the "Groupon killed my business" stories floating around are from businesses that weren't prepared to handle the surge of business it presents. If it's successful, use your experiences to mount an even more successful second campaign.
4. Come up with a way to ensure repeat business or utilize the new customers effectively. One idea might be collecting email addresses for your mailing list. Make one if you don't have one. You know these people are bargain hunters and have been interested in what you sell; offer them 10% off coupons periodically, or 'special offers' at the usual price. You're bound to get at least some of them back.
5. Prepare your staff for an initial surge of business followed by a reduced increase over time. Make sure they know that these are people you want to come back, and should be treated with the utmost respect. Consider outsourcing, hiring temporary employees or scheduling more help than usual.
6. Talk to other local business owners who have used coupon marketing. Try to learn from their successes and failures.
Coupon marketing can generate a lot of business very fast, and it can bankrupt you if you're not prepared. Follow these tips and you will be!