Why it works
.
Always available

Be there for your prospective customers. Anywhere, anytime.

Capture every lead

Never miss an opportunity
when clients call.

No voicemail, no bots

Win more business with real people, not automated voices.

Never closed for business

Work from home, your office,
or Anywhere.

Know your callers

We recognize your returning callers
for a personalized experience.

Manage your calls

Busy? Have an important meeting?
We've got you covered.
24/7 support for your team
and customers
.
Call routing and transfer

Choose your call-routing process and direct new opportunities to the right person on your team every time.

eCommerce lead qualification

With qualified leads delivered directly to your inbox, you can focus on converting more customers.

e-Shopping tools

Your online eCommerce call center can process orders, take payments and set up triggers for outbound calls.

CRM integration

We plug in seamlessly with the tools you use every day. Find your chosen CRMs in our integrations.

eCommerce live chat

Engage with leads on-site in real-time, at no extra cost, with an easy-to-integrate web chat widget.

Every interaction in one place

Track your usage, adjust call scripts and serve more customers through your dedicated AnswerConnect Portal.
Join AnswerConnect to enjoy:
AnswerConnect App

See every new engagement.

See every new message, track usage and follow up on the latest opportunities Anywhere.

AnswerConnect Portal

Manage your account.

Manage your account, customize your scripts and update your plans, anytime.

Teleport.Video

Connect with colleagues and clients.

Connect with colleagues and clients via secure video calls to manage projects and offer face-to-face demos.

ChatSupport

Convert passive visitors to active customers.

Convert passive visitors to active customers and capture leads directly through your website with an easy-to-integrate live chat widget.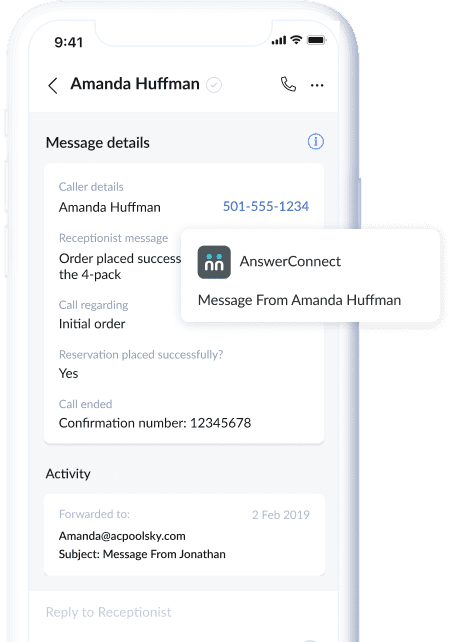 We're the voice (and ears) of
your business.
The best eCommerce customer care can adapt to the unique challenges of your business. Our friendly receptionists are an extension of your team.
From lead qualification to order management, your customers get consistently professional support. And with the AnswerConnect app, you can manage your account anywhere.
1

.

Let's talk.

Tell us about your business, your customers and your goals. We work with you
to create call flows to give your clients the best experience.

2

.

Let us handle your calls.

Our friendly support service staff engage and interact with your leads and customers, 24/7.

3

.

Stay up-to-date Anywhere.

See details of every customer interaction via our app, SMS, or email.
Customized to your eCommerce brand.
Your customer support requirements can change from month to month. That's why we offer scalable plans - allowing you to update your eCommerce answering service according to your needs.
Planning a big campaign for the upcoming season? Increase your minutes through your AnswerConnect Portal. Want to trim your minutes for a quiet period? With no fixed contracts, you can scale your plan at any time.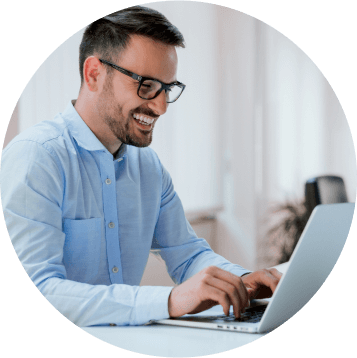 See pricing.
Find the right plan for your business.
By submitting this form you agree to our privacy policy. We may email, text or call you to follow up. You can opt-out any time.
FAQs.
Will I be tied into a contract?

No. Your contract is set on a monthly rolling basis and you can opt out at any time.

How will you get to know my business?

By doing what we do best–listening! During the onboarding process, we discuss your business model, business objectives and your customers. Best of all, with the Client Web Access Portal, you can update your settings at any time.

How can I keep track of my calls and messages?

We work with your current team. Our customer experience experts develop call and chat flows specifically designed to respond to your business needs. If you already have a receptionist team, you can choose an after-hours service, or simply opt for us to handle your overflow calls and chats.

How much does your eCommerce answering service cost?

We offer a range of scalable plans at different prices according to usage. Click here to view our plans and pricing.

Do you provide after-hours eCommerce answering services?

Yes. We offer after–hours answering services for eCommerce companies. We also offer overflow call answering to take the calls your team can't reach. You can choose when we answer based on your requirements.

How long does your service take to set up?

Setup varies according to requirements, but your account is usually set up within a few days. From finding the right plan for your business to your account going live, we keep you in the loop at all times.

Are you based in Canada?

Yes, our eCommerce receptionists are based across Canada, so you can give callers an on-brand experience in every interaction.
Can't find the answer to your question? Call us now: 800-700-8888 or email us at hello@answerconnect.com
These are the core values of AnswerConnect. Here is a book we think you might like.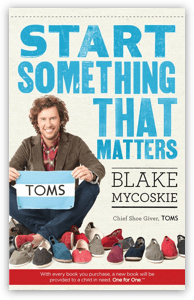 AnswerConnect customers have helped us plant