The top features of an MSP answering service
.
Why it works
.
Always available

Be there for your prospective customers. Anywhere, anytime.

Capture every lead

Never miss an opportunity
when clients call.

No voicemail, no bots

Win more business with real people, not automated voices.

Never closed for business

Work from home, your office,
or Anywhere.

Know your callers

We recognize your returning callers
for a personalized experience.

Manage your calls

Busy? Have an important meeting?
We've got you covered.
The voice (and ears) of your business
.
From lead qualification to 24/7 live chat support, they combine expertise,
efficiency and empathy to support your MSP, IT and Cloud customers.
1

.

Let's talk.

Tell us about your firm, your clients and your goals. We work with you to create
call flows to give your clients the best experience.

2

.

Start forwarding your calls.

Our friendly receptionists engage and interact with your leads and customers, 24/7.

3

.

Stay up-to-date Anywhere.

See details of your interactions via our app, SMS, or email.
App features
.
AnswerConnect App

See every new engagement.

See every new message, track usage and follow up on the latest opportunities Anywhere.

AnswerConnect Portal

Manage your account.

Manage your account, customise your scripts and update your plans, anytime.

Teleport.Video

Connect with colleagues and clients.

Connect with colleagues and clients via secure video calls to manage projects and offer face-to-face demos.

ChatSupport

Convert passive visitors to active customers.

Convert passive visitors to active customers and capture leads directly through your website with an easy-to-integrate live chat widget.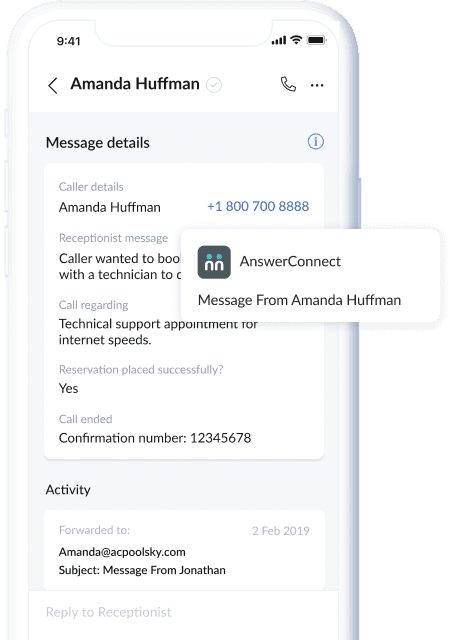 You're in good company
.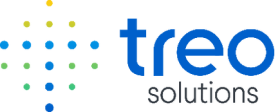 "

Helpful staff that were understanding, showed empathy and solved the problem quickly and efficiently.

"

Answer Connect has changed the way my company does business! Their flexibility to work with companies like mine who wanted to automate my sales pipeline is second to none.
Hear how we sound
.

To hear how we could answer your calls, enter your details and call us for free.
To hear how we could answer your calls, call us for free on the number below.
To hear how we could answer your calls, enter your company name and call us for free.
Continue
By submitting this form you agree to our privacy policy. We may email or call you to follow up. You may opt out at any time.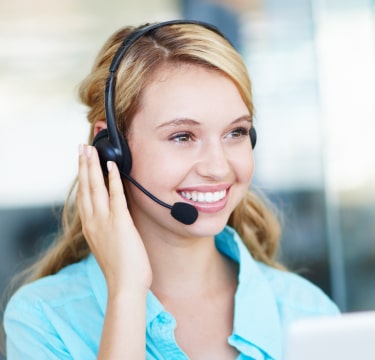 FAQs
.
How will my calls be answered with an MSP answering service?

We answer your calls just as you would! During the onboarding process, we get to know your business and help you build customized scripts. You can amend scripts and update your preferences on how we handle your calls at any time.

How long does it take to set up an MSP support service?

It can take anywhere between twenty minutes to 24 hours, depending on which features you want. Once we've completed
your onboarding call, we can start handling your customer service. Sign up today to start seeing the benefits of our service tomorrow.

Can I scale this service in accordance with my busiest seasons?

Yes! Our pricing plans are fully scalable. So you can upgrade to add more minutes for busy seasons, downgrade during
quieter times, and cancel at any time.

Why should I hire an MSP answering service instead of a call center or in-house staff?

Hiring your own in-house team is an option, but it also tends to be more expensive than using an answering service. You also have to account for holidays, sick days and other interruptions to service. Likewise, hiring a fixed-location call center
leaves your service vulnerable to power outages and other disruptions. Our receptionists work in a distributed model,
ensuring your service is protected from localized power outages and other disruptions.

Will I be charged for spam message answering?

We do not charge to block calls but we don't automatically block calls. You can always get in touch with our client services
team to block a specific number. When our receptionists realize it's a spam call, they hang up and we don't charge for the
first thirty calls that last less than thirty seconds. You can also add IVR to block all "robo calls".
Can't find the answer to your question? Call us at 800-700-8888 or email us at hello@answerconnect.com
See pricing.
Find the right plan for your business.
By submitting this form you agree to our privacy policy. We may email, text or call you to follow up. You can opt-out any time.
These are core values of AnswerConnect. Here is a book we think you might like.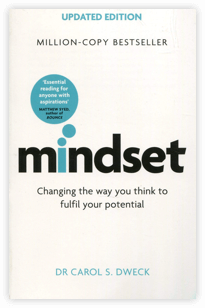 AnswerConnect customers have helped us plant