Total access, 24/7
.
When you leave the office, you need more than just a direct line to communicate with your team. You need a way to follow up with your virtual receptionists.
So how do you stay up todate with your team and track the latest opportunities without the constant calls?
The AnswerConnect app is the portal to your business. Through the app, you can see new messages and follow up on opportunities in real time, Anywhere.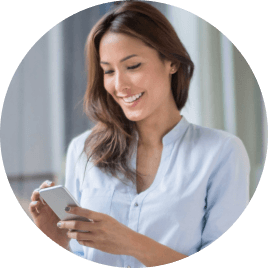 App features
.
Every engagement in one place.

See every interaction.

See every interaction our team has with your
leads and customers, 24/7.

Choose availability.

Choose availability.

Set your status to control when you receive calls
and keep your team in the loop at all times.

Make every call yours.

Maintain consistent caller ID.

Maintain consistency and keep the same
number for customers and colleagues.

Personalize your service.

Edit your details.

Edit your account details, set your business hours,
and view your billing information, 24/7.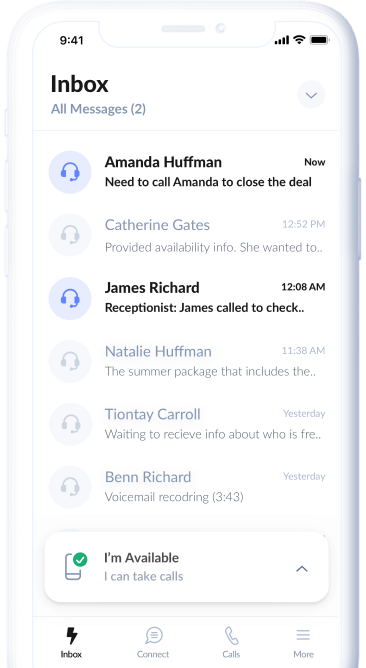 App features
.
Every engagement
in one place.

Choose availability.

Make every call yours.

Personalise your service.
Inbox
.
View messages from your virtual receptionists, and call or text clients.
Add notes and reminders to messages, and forward interactions to your team members
Replay call recordings between prospects and your virtual receptionists.
Set status updates to show when you're available for call forwarding.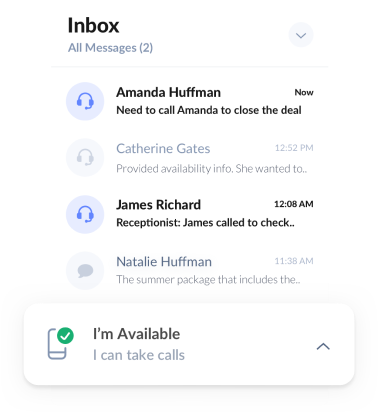 Connect
.
Send clients an SMS directly through the app using your Business ID.
Host one-on-one and group chats with multiple team members.
Share file attachments direct through chats to centralize your resources.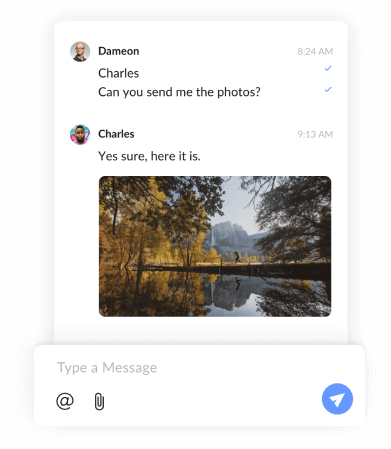 Calls
.
Call customers and colleagues using your Business ID.
Add and manage contacts.
See your call history and return calls with a click.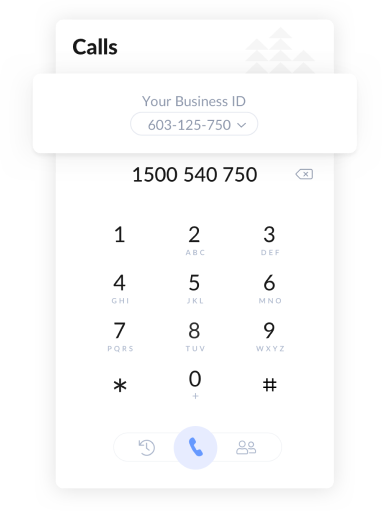 More
.
Update your personal profile and customize your notification settings.
Edit your account details, business profile, and billing info.
Add team members to Communicate with all your team members on one channel.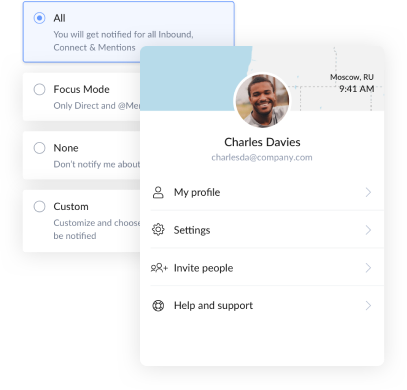 How to get your AnswerConnect app
.
Every AnswerConnect account comes with free access to the AnswerConnect app.
1

.

Sign up for dedicated access, Anywhere.

You'll receive a link to download the mobile and desktop app upon activation of your account. Your app sign-in details are the same as those of your AnswerConnect Portal.

2

.

Access your app.

Just enter your email address, choose your new password, and log in. It's that simple!

3

.

Manage your account, Anywhere.

Chat with your team, make calls, and update your account details to manage your Answering Service from Anywhere.
Need help getting set up? Contact our Client Support Team, and we'll guide you through the process.
You're in good company
.

"

My law firm started working with them for their live answering services and website chat features. It's great to know someone will answer the phone at 2am if needed. Response time for any questions is very fast. I recommend them 100%.

"

AnswerConnect've been extremely responsive and helpful. The setup process was thorough to ensure every caller could be helped. We would recommend this service to companies of any size. We are truly pleased with the experience and we will utilize AnswerConnect forever!
Secure Connection
.
Rest easy with encrypted chats to keep your interactions secure
and SSL encryption to protect your video data.
FAQs
.
How much does the app cost?

The AnswerConnect app comes free with your AnswerConnect account. No hidden charges, just unlimited connection with your team and direct access to all your latest opportunities.

How many people can have access to the app?

Your AnswerConnect app comes with access for your entire team. Invite team members to download the app and stay connected Anywhere.

Can I contact people outside my organisation with the app?

Yes. You can call customers via the Business ID number linked to their account and even video-call using the Teleport video integration.

Can I text my clients?

Yes. You can send SMS messages directly to customers through a call message in your Inbox Tab, or via the Connect tab.

What do I do if I am having problems with the app?

You can get in touch with our support team through the 'Feedback' section in the settings on the app. If you're unable to access the app, you can reach out to our support team by phone or by email.

I forgot my login credentials. How do I get into the app?

You can request new log-in details from the log-in screen when you first open the app. To access this, simply log out of your app and click 'I've forgotten my password' below the log-in fields. Alternatively, you can request to change your password from our support team by phone or by email.

How does the AnswerConnect Portal differ from the AnswerConnect app?

The AnswerConnect Portal is a web browser application in which you can manage your billing, update scripts and call flows, and see reports on your call answering service. The AnswerConnect app is a direct connection to your virtual receptionists. Through the app, you can view the latest messages from your callers, add notes to contacts, and transfer new opportunities to your sales team.

How do I get a Business ID for my account?

You can request a Business ID for your AnswerConnect account here.
Can't find the answer to your question? Call us now: 800-531-5828
These are core values of AnswerConnect. Here is a book we think you might like.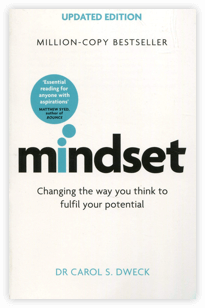 AnswerConnect customers have helped us plant