Pledge People,
Not Bots.
We're dedicated to keeping business human.
Learn more >
Why it works.
Always available

Be there for your prospective customers. Anywhere, anytime.

Capture every lead

Never miss an opportunity
when clients call.

No voicemail, no bots

Win more business with real people, not automated voices.

Never closed for business

Work from home, your office,
or Anywhere.

Know your callers

We recognize your returning callers
for a personalized experience.

Manage your calls

Busy? Have an important meeting?
We've got you covered.
Make a great impression.
68% of consumers would pay more for products or services from a company with good customer service.1
Source: 1 Forbes.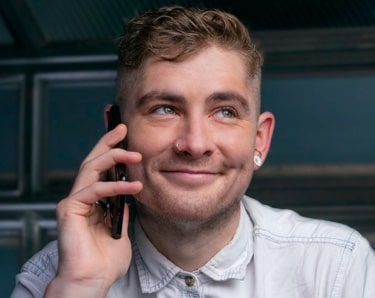 Instant notifications.
Stay connected instantly via in-app messages from receptionists.
Learn more >

Live chat helps
convert your leads.
Your web visitors chat with real people, not bots. A personal touch makes all the difference.
Learn more >
9/10
people expect to use live chat to get help from companies online.1
Source: 1 Neil Patel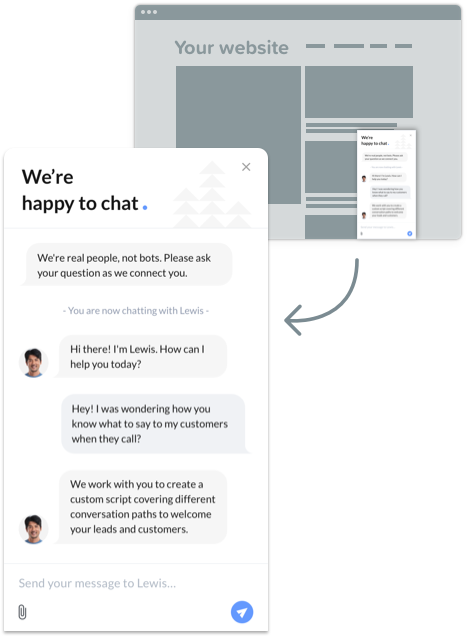 Real interactions,
real results.
80%

of callers will hang up when they reach voicemail.1

74%

of people who have a bad phone experience would choose another business next time.2

61%

of mobile users call a business when they're ready to buy.2
Source: 1 CBS News, 2 Harvard Business Review.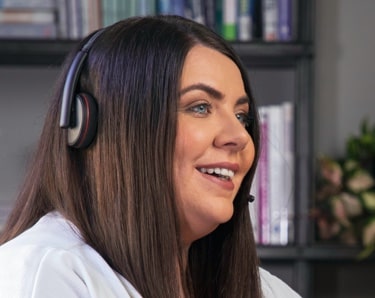 Your partner in business.
We are proud to be IFA's
preferred answering service
for franchise businesses.
View franchise services >
Integrate with ease.
We plug seamlessly into the tools you use every day.
View more >
Want to hear
how
we sound?
Share your company name and we'll
give you a unique toll-free number.
Continue
please enter company name
Experience what your customers will hear. Call us now and we'll answer in your company name.
Join other happy customers.
Call today and discover why other businesses have chosen us.
FAQs.
What is a 24/7 call answering service?

A 24/7 call answering service is an answering service staffed by friendly, professional customer experience experts who can answer your customer calls day or night. Excellent for after-hour calls or daytime overflow calls, a 24/7 answering service ensures your customers always reach a live person and receive superior customer care no matter when they call your business.

How should a call answering service answer my calls?

Quickly and with warmth and professionalism! We answer 99% of our clients' calls within one to four rings. This - and our 5-star customer service - are the most important metrics we use to measure our success in offering you the best service.

Who is answering my phone and website chats?

All of your phone calls and website chats will be answered by our warm, highly-trained customer experience experts working from distraction-free home environments here in the United States. Our people are our best asset, and soon they'll be yours too.

Are you based in the United States? Where do you provide your services?

Yes, we have call agents spread from the West Coast to the East Coast in every time zone. If a natural disaster or power outage causes a service disruption in one area, our distributed employee strategy allows customer service experts in another area to pick up the slack. Your calls will always be answered.

How much does an answering service cost? Is billing done by the call, by the minute or by the month?

You'll choose a monthly plan based on how many minutes you think you'll use. We calculate minutes based on the total time required to handle the call, including any after-call work our receptionists do to take your messages.

If, mid-month, you realize you might use significantly more or less than the minutes included in your plan, we're happy to scale your services up or down before the next billing cycle.
Can't find the answer to your question? Call us now: 800-700-8888
See pricing.
Find the right plan for your business.
By submitting this form you agree to our privacy policy. We may email or call you to follow up. You can opt-out any time.
These are the core values of AnswerConnect. Here is a book we think you might like.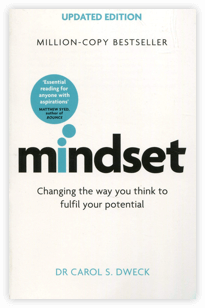 AnswerConnect customers have helped us plant