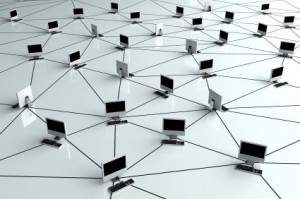 Answering service software has forever changed the face of the call center.
Where "inbound call center" once brought to mind a large office building honeycombed with uniform cubicles, virtual call center technology enabled answering services to decentralize and spread out. This allows for greater flexibility, lower costs and easier integration with clients' existing systems.
In the past, a single company, such as a collection agency, would own and operate its messaging center. Employees relied on a telephone exchange, solely serving their office building. This exchange connected with the public switched telephone network through direct trunk lines.
While this saved money on internal phone calls, the system had drawbacks. Companies owning their own phone centers were responsible not only for staffing them, but for any maintenance costs and software upgrades required to run them. Physical space also limited growth. Shrinkage and cutbacks meant paying for empty desks and unused space—offices in general have a very fixed functionality.
With the commercialization of the Internet, a whole world of possibilities opened up, including the possibility of cloud computing. Developers built software that allowed companies to store data in remote servers, to be accessed online. By using web-based applications to manage calls, companies could eliminate their need for physical, on-site hubs. Contact centers effectively became virtual offices.
Not only did the office walls disintegrate, but so did the definition of "messaging center." The expanded capabilities created by cloud computing allowed one call center to function for a variety of companies in wide array of capacities.
Businesses could pay a monthly fee for these services rather than maintain a center of their own. By sharing overhead cost among multiple clients, these remote call centers gave smaller and mid-sized companies a cost-effective (and less carbon-intensive) tool to compete against larger companies with their own phone centers.
Because smart companies are using answering service software to eliminate expensive on-site call center offices, answering services have became much more agile and infinitely adaptable.