You can do a lot with your smartphone. And now, the AnswerConnect mobile apps for iOS and Android are better than ever!
Keep reading for a quick introduction to the new apps and how you can use them to manage your AnswerConnect account from anywhere.
How to get the new mobile app
First things first. How do you get the new mobile app?
If you have an iOS device like an iPhone, head over to the App Store and download the new app. Even if you already have the previous version, you'll need to download this one separately. The good news is, it's free!
For Android users, if you already have the previous version of the AnswerConnect app, you don't have to do a thing. It will automatically update to the new version. If you don't have it yet, you can download it from the Google Play store.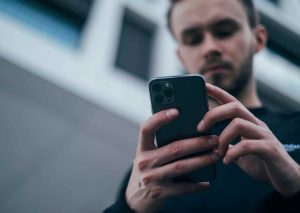 What's new in the AnswerConnect mobile app?
The latest version of the app has a new design to better match the web app you may be using to manage your account on your laptop or desktop computer. You can learn more about the web version on our Knowledgebase.
When you're on the go, the mobile app will let you get your messages, chat with your team, and more. Let's run through the main menu options now!
Messages
Messages…this is why we're all here, right? When you open your AnswerConnect mobile app, the first thing you'll see is a list of your messages in reverse chronological order, with the newest ones on top.
The list shows the caller's name, where they're located (based on the area code they called from), and what time they called.
Message details
Tap on a call to see the full message details. The information here will vary depending on how your script is set up and what you've asked us to deliver to you.
Message archive
To toggle between your inbox and message archive, tap on the word "Messages." The two options will drop down and you can switch between them.
Messages from your subaccounts
If you have different subaccounts with us, you can manage them all from the same app. Each subaccount has its own inbox. To switch among them, use the icon with the three dots at the top right of your screen.
Chats
The Chats section of your AnswerConnect mobile app lets you stay in touch with your team no matter where you are.
Here, you can send instant messages to anyone included in your Team Directory (see below for more on that).
Besides chatting individual team members, you can set up group chats as well, to communicate with multiple people at once.
Directory
Your directory has two parts.
In Team, you'll see everyone who has a login for your AnswerConnect account.
In Contacts, you'll see your customers—people who have called you, or who you have added yourself. You can add contacts in the web version. Find out more about how to do that here.
Contact details
Tap on a Contact to see their details. This includes a map showing their location (again, based on their area code), their phone number(s), and the history of all the times they've called you.
Status
If your account is set up to receive call transfers, you can set a status to temporarily keep from getting the transfers.
For example, maybe you usually want to receive the transfers. But sometimes, you're in a meeting, at lunch, or on vacation. At those times, you can set your status to stop the call transfers. We'll take a message instead.
More
Tap "More" for a few additional options, including links to report a problem with the app or invite your friends and colleagues to use it.
Here, you'll also find the Billing section, which shows your usage for the current month, the plan you've chosen, and your recent invoices.
Be Free to Work Anywhere
Your AnswerConnect mobile app helps you stay connected to your team and your customers no matter where you are.
In today's world, work doesn't just happen at the office. When you have this app on your smartphone, you'll be free to work from home, on the road, at a co-working space, outdoors, or just about wherever you want to.
Enjoy the app, and the freedom to work anywhere! And please let us know your feedback, either with the link in the More section, or by commenting here. Check out our Knowledgebase for answers to common questions about the app.
Quick takeaways.
AnswerConnect mobile apps for iOS and Android are now better than ever!
The good news is, the app is free!
The main menu options are messages, chats, directory, contact details, status and more.
When you're on the go, the mobile app will let you get your messages, chat with your team and build happy customers!